John Bowman and Andy Blakie of Hillingdon Green Party attending the 'Vote No Heathrow' rally in Parliament Square on June 23 2018.

Mark Keir, HGP co-ordinator, said:
"It is of course with utter dismay that we see once again that the government, indeed Parliament, sees fit to destroy our communities, our cherished homes, our schools and our environment with the go-ahead for Heathrow expansion. Our children and grandchildren will suffer the awful legacy of this act through the ever-worsening air quality that already blights so many lives.  Surely this act of wanton destruction and disregard for human life alongside the carnage being meted out by HS2 in our Borough, must be seen as criminal, and totally refutes any claims of adhering to the Paris agreement.  However, this decision will serve to galvanise our campaign to stop Heathrow Expansion, we are not yet done.  Let battle commence!"
John Bowman, Hillingdon Green Party Planning Officer, said:
"…..one of the biggest problems is that their figures regarding road traffic in and around Heathrow just don't stack up.  Not only are their figures pie in the sky, they come nowhere near meeting air quality requirements. The air quality around Heathrow and indeed much of Hillingdon is already way over permissible toxin and particulate levels.  This cannot possibly be allowed to pass the planning process by Hillingdon Borough."
The National Policy Statement states that the number of trips by Public Transport should be 50% by 2030 and 55% by 2040. Notwithstanding that even if this target was met, based on predicted passenger numbers it would still result in a significant increase in motorised traffic adding to the already polluted and congested streets around Heathrow, yet Heathrow's own Sustainable Transport Plan states the mode share is currently 40% and has been for the past 10 years. We beleive therefore that it should be a condition that before construction work can commence, the public transport mode share would need to be 55% in order to demonstrate that Heathrow has the willpower to meet the targets once the airport is expanded.     There were a number of planning conditions that were imposed on Terminal 5 such as reduced staff parking and extending Heathrow Express and and the Piccadilly line to terminal 5 and, interestingly a new rail link to St Pancras (probably via the Acton curve) which has never been done and not even Crossrail will do this.  At present therefore the sustainable transport plan is more of PR document which doesn't hold any particular weight.
Carbon dioxide from aircraft and motor transport will stop Britain meeting climate obligations: a 50% reduction in emissions by 2030. Climate change already kills 150,000 people per year and causes violent weather patterns in temperate countries.
Around Heathrow we already endure the worst air quality in Europe. Local G.P. Dr Alick Munro said, "We are over the EU legal limit. It is making people ill. Chronic cough is extremely common among local people".
The Green Party is the only party opposing airport expansion in and around London.
No Heathrow 3rd runway news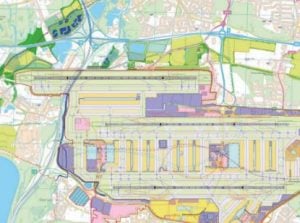 Heathrow third runway – Next steps? […]