The Greens support rail travel in principle because it should improve Britain's transport system, reduce road and air traffic and help cut carbon emissions.
HS2, however, does too much damage to local communities and to the environment and it is too pricey. To achieve high speeds the trains are expected to use up to 50% more fuel than Eurostar so carbon emissions will not be reduced.
The enormous sums involved (estimated 100 billion and rising) could be better spent improving transport for everybody, not just the wealthy business people who will be able to afford to use HS2.
HS2 is not a green solution. That money needs to be spent instead on increasing rail capacity by adding more track to existing routes and by upgrading freight-only routes for passenger use too.
At the same time, we need wider-ranging policies designed to reduce the need for long-distance travel, while integrating local public transport systems (for example, as has actually happened to good effect in London over the last 15 years) and continuing to make streets safer for cyclists and pedestrians.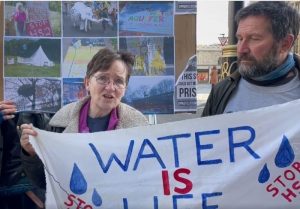 Sarah Green and Mark Keir took their Water is Life / Stop HS2 banner to the right to protest demo at Westminster on 12th January. See here for the video […]